Rebirth of the Mysteries
By W. T. S. Thackara
[From a talk given at the Theosophical Library Center, November 7, 1997.]
Much that is excellent and divine does Athens seem to me to have produced and added to our life, but nothing better than those Mysteries by which we are formed and moulded from a rude and savage state of humanity; and, indeed, in the Mysteries we perceive the real principles of life, and learn not only to live happily, but to die with a fairer hope. -- Cicero, On the Laws II.14
Many years ago while reading an old theosophical magazine I came across a two-page article entitled "The Teacher and Disciple of Old" by Herbert Coryn, and was struck by its clarity, depth, and relevance. Each reading since has yielded new insight, and I've often thought what a pity the article should be so inaccessible.
Herbert A. W. Coryn was born in England in 1863, the son of a physician with whom he practiced medicine after earning his MD and joining the Royal College of Surgeons of London. Previously an agnostic, he wrote that he "accidentally met with a copy of The Occult World" -- based on letters from H. P. Blavatsky's teachers -- and then "went to see H.P.B. at 17 Lansdowne Rd., London." On February 7, 1889, he was admitted into the Theosophical Society and was later invited by HPB to join her Inner Group of private students. When the Society divided in 1895, four years after HPB's death, Dr. Coryn supported William Q. Judge and played a key role in organizing the Theosophical Society in Europe. He subsequently came to the United States to work at the New York headquarters at 144 Madison Avenue and, when it was moved to Point Loma in 1900, he applied to Katherine Tingley to become a resident staff member. There he served with distinction on the medical and literary staffs (including editorship of The New Way) until his death November 7, 1927.
His article was published posthumously in May 1931, coinciding with the 40th anniversary of HPB's death and the centennial of her birth. Of more particular interest, however, is its subtitle: "From notes dictated by Katherine Tingley, July 1902." This prompted the thought of this year's centennial, for on February 23, 1897, Katherine Tingley laid the cornerstone for the School for the Revival of the Lost Mysteries of Antiquity (SRLMA). The events leading to the founding of the School provide context to Katherine Tingley's remarks, as well as indicate the commission she received on becoming leader of the Society and the extraordinary help given her along the way.
Just five weeks after Judge died, the Theosophical Society in America held its second annual convention in New York. The evening session of Sunday, April 26, 1896, with 2,000 in attendance, was a public meeting paying tribute to Judge. According to the report in Theosophy magazine:
After the ceremony Claude Falls Wright stepped forward and said that the real Founders of the Theosophical Society [HPB's teachers] were preparing to found a School for the Revival of the Lost Mysteries of Antiquity, and that to carry out this object funds would be solicited, a suitable site procured and buildings erected. The aims and possibilities of such an undertaking should be apparent to members of the Society, who have the power and disposition to carry it into effect. Mrs. P. B. Tingley followed Mr. Wright and made a few remarks about the founding of the School. -- June 1896, p. 93
This was the first public mention of the School. Katherine Tingley's remarks were very brief, and she made few comments about it in the ensuing months. Just as many artists are reticent about a work in progress, lest its inspiration be spoiled, KT felt it important not to speak prematurely while her initial work was beginning to unfold. In 1905 she referred to a conversation she had had with Judge. He said that he "used to ask H.P.B. questions when she mentioned this great School of Occultism in the West, and she would laughingly wink and say, 'Wait until you find her'; and what you [KT] now say corresponds, but the fact that we are talking this plan over is dangerous." Although Judge had alluded briefly to this school in November 1894, stating that HPB had hinted at it in The Key to Theosophy, he had written this privately at his teacher's request to help students grasp the larger issues at stake during that very difficult time. Under the circumstances, a public announcement would likely provoke opposition. "And this is the reason," KT added, "why I was so secretive about my plan, and would not give it to some of the old members at 144 Madison Avenue, New York." ("Anniversary Meeting," The Searchlight, October 15, 1905, pp. 27-8)
In mid-June 1896, less than two months after announcing the SRLMA, KT and six others set off on a Crusade around the world to meet with members abroad, hold public lectures, establish branches where feasible, and provide free "brotherhood suppers" for the homeless and destitute -- a trip which was to culminate on their return in laying the cornerstone of the School. On the first leg of the tour she stopped at Killarney, Ireland, and there selected a stone intended to "form part of the foundation stone of the School." A member in California was dispatched to find "a suitable site" at Point Loma, a peninsula enclosing San Diego Bay, and arrange for its purchase. On her arrival in Geneva on September 2nd, she received a cable with extremely disappointing news: "Impossible to purchase place you name; it is owned by the U. S. Government." She was sure this was wrong and set to work on a reply.
One of the members of her party, Claude Falls Wright, had meanwhile gone to a newspaper office to prepare a notice of a public meeting. When the advertising manager, an Irish-Scot, read it, he asked if this was the Theosophical Society headed by Katherine Tingley. On learning it was, he said: "I have a friend, [Gottfried] de Purucker, who has been a member of your Society for many years, and I think he would be greatly pleased to see Mrs. Tingley and her friends." After finishing his business, Wright went directly to see Purucker, then a young man of 22, and told him of KT's visit and how he had discovered his address. Purucker said he would be delighted to meet her, and the two went straight away to the hotel. KT continues:
I do remember my abrupt manner to this young stranger. I explained that I should be glad to see him in the evening, but that at that moment I was held by the most important business that could not be delayed. As he started to go, I asked, "Have you ever lived in America?" When he answered, "Yes!" I hurriedly asked, "In what part?" He answered, "California!" Then, with an earnest and anxious query, "Were you ever in San Diego?" "Yes, Madam," he said, "I was there for several years." -- The Searchlight, pp. 26-7
Claude Falls Wright suddenly looked up and said, "My God!" KT explained her dilemma and the young man then sketched a map, showing the government property at the southernmost tip of the peninsula, pointing out that adjacent land to the north was privately owned. She immediately cabled the necessary information to her agents who promptly set to work to secure its purchase. ("The Finding of Point Loma, " Account by G. de Purucker of his First Meeting with Katherine Tingley in Geneva, Switzerland; from shorthand notes recorded April 26, 1930; reprinted in The Eclectic Theosophist, July/August 1985, pp. 6-9.)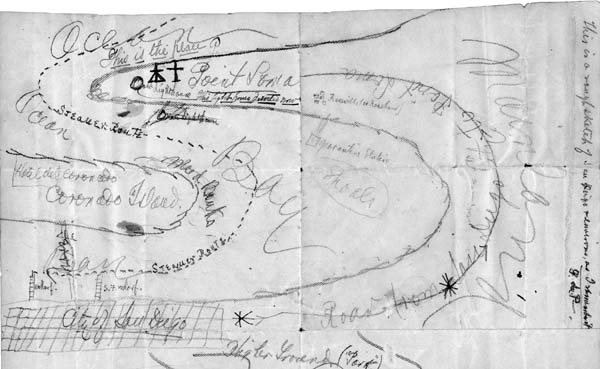 G. de Purucker's sketch of Point Loma drawn at Geneva, September 2, 1896.
KT also mentioned in her account a comment by Judge about Purucker. About a year earlier, before she was known in the Society, Judge told her of a "young European that was in California" (Purucker was an American schooled in Europe) who, he believed, could handle a difficult situation in the theosophical work there.
Then [Judge] went on telling me the history of that young student in Theosophy. "But," he said, "I am afraid he has left America." . . . The next morning he said to me, "You may sometime be travelling in Europe, and if you ever come across this man, do not lose sight of him." -- The Searchlight, p. 26
She did not. In his account, Purucker said that KT had invited him to accompany them on the Crusade. He replied that other obligations prevented him from accepting. "I went home, and oh! I cannot tell you how I wanted to go with K.T. I thought all night about it, dreamed of it, the little sleep I had. But I had pledged my word and it did not seem right to break it." (G. de Purucker, "The Finding of Point Loma," p. xx) It would be seven years before he joined the resident staff at the Point Loma headquarters, where he became KT's student, private secretary and, on July 11, 1929, successor as leader of the Theosophical Society.
The February 1897 issue of Theosophy magazine opened with an article by E. August Neresheimer on the "School R.L.M.A." with an artist's sketch of its planned first building. The site had been purchased on January 22nd and construction was expected to begin immediately. The building was to provide
a library, study and living rooms for the accommodation of teachers and students. . . . Other and more extensive buildings will be erected, the corner-stone of one of which will be laid on the return of the Crusaders, end of this month. The School for the Revival of the Lost Mysteries of Antiquity . . . sets forth as its objects "the mutual improvement in religious knowledge by the comparative study of religions; investigation of the secret mysteries of antiquity; the performance of charitable and benevolent services"; the plans and directions for the conduct of such a school were prepared and have been constantly in view from the inception of the Theosophic movement in this century. -- pp. 321-2
Katherine Tingley and her party arrived in San Diego in midFebruary. The stone from Killarney had not arrived, so a local stone had to be cut for the ceremony. It is square in shape, about 30" on a side, its top engraved as follows:
CORNER STONE
S.R.L.M.A.
LAID FEBRUARY 23RD, 1897
BY THE
FOUNDRESS KATHARINE A. TINGLEY.
UNIVERSAL BROTHERHOOD
NEW CYCLE. YEAR ONE.
The keynote of the School -- universal brotherhood -- is here clearly inscribed. For the chief purpose of the Mysteries was and is to release the soul from the bondage of selfishness and ignorance, from the prison of materialism, so that it can more clearly recognize the divine oneness -- the "friendship and communion with God" by which we are afforded a direct knowledge of our transcendent origins and intimate linkage with all beings. The Mysteries of antiquity were held in highest esteem and their presence in every major religious tradition, in one form or another, is of record. They were regarded as the university of the soul, and the modern theosophical movement has never made a secret of its objects being inspired by and modeled upon the sacred original. (See "Linking Ourselves with the Fellowship of the Mystery," Sunrise, April/May 1991.) In laying a cornerstone with universal brotherhood as its principal declaration, Katherine Tingley's objective for the SRLMA is evident.
Laying the Cornerstone of the SRLMA, Point Loma, February 23, 1897
Some have asked whether the School was ever built. Since its founding a century ago, not a single building has been erected. The Point Loma theosophical headquarters witnessed the establishment of several schools and construction of many buildings, but none of these was the School itself. There exists nothing outwardly but the "foundation stones" and the idea. And perhaps this was intended -- for how does one house a school which embraces the universe?
Aside from the stones, nearly all other vestiges of the SRLMA passed away with the death of Katherine Tingley -- barely a mention of it is to be found in the literature published by her successors. Perhaps this was intended also. Seeds need time to germinate and take root in the silence. The only direct statement I can recall was made by James A. Long, the Society's Leader from 1951-1971, less than six weeks before he died on July 19. It was our last conversation, and I remember the particular emphasis he gave to his closing words: that his work was "for the Revival of the Lost Mysteries of Antiquity."
I do not know the circumstances which prompted KT to speak on the relationship of teacher and student, nor how Herbert Coryn's notes came to be published. Nevertheless, for those who seek greater understanding and wish to contribute to the world's reservoir of compassion, these words bear the hallmark of experience, have application at many levels, and were offered freely for our consideration.
"The Teacher and Disciple of Old" by Herbert Coryn
(From Sunrise magazine, April/May 1998. Copyright © 1998 by Theosophical University Press.)
---